Cornwall floods: Warning over rogue traders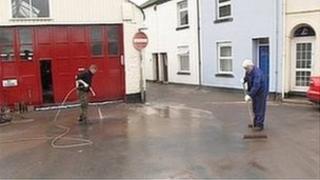 The owners of flooded properties should "beware of rogue traders and cowboy builders" exploiting the "devastation", Cornwall Council has warned.
At previous times of flooding in the county, there have been reports of fraudsters falsely offering a service.
Trading Standards officers said work should only be carried out by those with an appointment and identification.
It added that payment should only be given when the work had been satisfactorily completed.
Nigel Strick, from Trading Standards, said: "We are worried that some of the more unscrupulous traders may try and take advantage of the victims of the recent flooding.
"This is an upsetting time for all those who have suffered damage to their homes, and we don't want anyone to be taken advantage of whilst in this vulnerable state."