A39 in Cornwall reopens after river bursts banks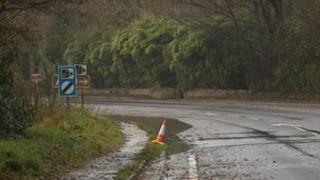 One of Cornwall's busiest routes has reopened after it was shut by flooding when a river burst its banks.
The A39 was closed between Treluswell and Devoran from 16:00 GMT on Monday after rain pushed river levels in the Helston area higher.
Although it has reopened, some parts of the road surface were reported to be in a poor condition, BBC Travel said.
There were nine flood alerts in place across the county, the Environment Agency said.
Police and highways officials also closed the A39 road because flood water was threatening to break the banks of a nearby waterway.
Elsewhere in the county, the Environment Agency said levels at the county's largest natural lake, 50-hectare (123 acre) Loe Pool, near Helston, were 1m (3ft 3ins) above normal.
'£25m and counting'
As well as recent damage to homes, local business groups said they were counting the cost of weather-related damage and travel disruption.
Tim Jones, of the Devon and Cornwall Business Council, said: "In Cornwall, our calculations is that it's about £25m and counting.
"If we include Devon and Somerset, we're looking between £50m and £100m of total destruction.
"That doesn't take into account what it's going to cost to put everything back together again."
Meanwhile, Cornwall Council is calling on the government to maintain a commitment to paying for essential flood investigations.
Changes to the law mean the council has new legal duties, including responsibility for looking into incidents such as the recent floods to see what lessons can be learned.
Councillor Lance Kennedy, cabinet member for community safety of the Conservative-Independent led unitary authority, said the council was to lobby the environment ministry Defra for reassurances.
He said: "We've been told that there will be funding up to 2015.
"Afterwards, in smaller paragraphs, it says that the government are committed to the scheme.
"In 2015, we could have a different government.
"What I'm interested in getting is a commitment from central government saying that they recognise that there is a need for this and they are committed to funding it."