Cornwall Camborne-Redruth link road ready for construction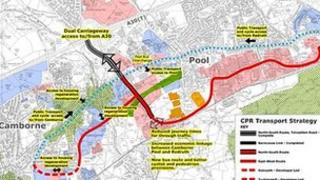 Construction on a new £27m link road in Cornwall is expected to begin next spring, Cornwall Council has said.
The new road, which it is hoped will be in use by 2015, will link Camborne, Pool and Redruth.
The council claims the scheme will create more than 5,500 jobs and 7,500 homes over 20 years as well as cutting congestion on the A3047.
In December 2011 the government approved a £16m contribution to the scheme.
Councillor Bert Biscoe said: "Camborne and Redruth will have a much better chance to build the future they each desire when this project is achieved.
"We can then breathe new life into one of the historic industrial powerhouses of the local economy that has suffered such dramatic decline since the collapse of the mining industry."
The funding will be used to construct a new east-west link road from Dolcoath to Dudnance Lane across the Red River Valley and from Dudnance Lane to Wilson Way.