Floods bring chaos to Cornwall after heavy rain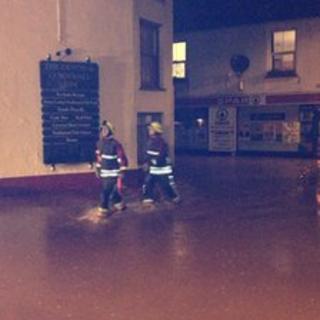 Up to 100 properties were flooded as heavy rain lashed Cornwall.
At the height of the downpour, four severe flood warnings were in place, in Polperro, Helston, Perranporth and Lostwithiel.
The Environment Agency (EA) said a severe flood warning remained for the River Cober in Helston.
Devon and Cornwall Police said that across both counties 250 homes had been flooded, including properties in Millbrook and Polperro.
The Met Office said further heavy rain was expected into Monday across the region.
Rail passengers from the South West trying to get to London were on Sunday warned not to travel.
Among the worst hit places were Millbrook, where 40 properties flooded, and Mevagissey, where 25 buildings were affected.
In south-east Cornwall on Sunday, a large fir tree fell on two cars on the A38 at Notter Bridge, completely blocking the road.
A police spokesman said the occupants had minor injuries.
'Torrents of muddy water'
Special rest centres were set up and more than 200 council staff were alerted to help those affected by flooding.
The EA said an estimated 90 to 100 properties have so far been flooded in Cornwall, while across the South West more than 300 homes have been affected.
Cornwall Fire and Rescue Service said it had taken more than 400 calls since Saturday morning, in what was described as one of its busiest days in the past 50 years.
Fire crews attended 350 incidents on Saturday night into Sunday.
Six properties had to be evacuated following a landslip at East Portholland, near Mevagissey.
Fire and rescue pumps were sent to Perranporth to help prevent further flooding after the river broke its banks.
Reports suggested Millbrook was at one point under 5ft (1.5m) of water and BBC reporter Alison Johns, who lives in the village, said 40 houses had been evacuated.
She said torrents of muddy water cascaded down the road into the village and people's homes.
Ms Johns said the village's sluice gates were opened, allowing water levels to subside.
At least four properties were flooded in Polperro which was devastated by floods in 1976 and 1993.
Alan Crockford, a pub landlord in the village, said there had been warnings but "nobody knew it would get this bad".
He said: "I was actually in my house and I heard a roar, and just looked outside the window and that was the first bit of water that just, just came down the hill, like a river running straight down the road.
"We were given warnings from Floodline, and they just said, like, to take care; we were never given any firm warning that you had to evacuate and no-one knew to expect it this bad."
'Unbelievable sound'
Several homes and businesses were flooded in Newlyn.
Newsagent David Barron, who narrowly avoided being flooded, said: "I always thought if the shop ever flooded it would flood from the sea, but I really thought last night that we were going to flood from the river.
"The sound of the water running was unbelievable.
"I fully expected to come down this morning and see the shop flooded, but I've luckily just got away with it."
David Owens, from Cornwall Council, said that despite earlier fears, the river had not burst its banks in Lostwithiel on Sunday.
In the town, residents piled sandbags at their doors amid fears the River Fowey would again burst its banks, as it did in 2010.
The rain also had an impact on rail services, with buses replacing Cross Country services between Exeter and Bristol. Diversions remain in place between Exeter and Yeovil.
Dan Paines, from First Great Western, warned passengers who were intending to travel from the South West to London on Sunday or Monday morning not to try.
Mr Paines said he expected the line between Tiverton and Exeter to remain closed until early next week.