Surfers Against Sewage targets firms in litter campaign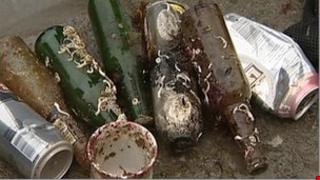 Surfers Against Sewage has asked beach users to send litter found around the coast back to the manufacturers who made it.
The Cornish-based charity hopes it will make the companies more responsible for the packaging they produce.
The organisation has published a campaign letter and a list of addresses which it hopes people will use to return the litter.
The campaign, called Return to Offender, starts on Saturday.
Campaign director Andy Cummins said: "We ask the companies to reduce the amount of packaging they use, to look at lower impact packaging and support anti-litter campaigns."
He added that because of a previous campaign, a fizzy drinks company had made packaging changes.
Mr Cummins said: "The companies are producing these products, they have to think about the whole life cycle."
The charity, which has its headquarters in St Agnes, was formed in 1990 by a group of surfers and beach users.