Cornwall councillors vote to freeze car park charges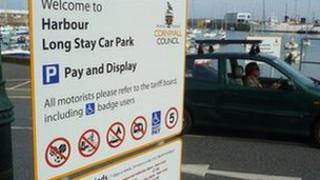 Car parking charges in Cornwall will be frozen next year, councillors have decided.
There had been proposals to increase the current tariffs by 3.2% in 2013/14.
Andrew Wallis, chairman of the parking advisory panel said it would give "much needed relief to hard pressed town centres".
Councillor for housing and planning Mark Kaczmarek, said money would now have to come out of the highways budget to "cover the inflationary increase".
Mr Kaczmarek - who voted to support the inflationary increase - said there were "financial implications" for a decision that has not been budgeted for.
"Car parks are a business that the council runs, it has to make sure they are viable and we've got to make sure that the maintenance of those car parks are high spec", he added.