Global goal for Cornish mining heritage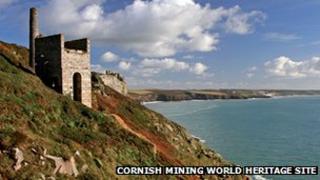 Supporters of Cornwall's unique mining heritage hope it could become part of the world's first trans-continental world heritage site.
The Cornish Mining World Heritage site team has included this aspiration in a new planning strategy document for the next five years.
Cornish miners took their technology to at least 175 places around the world - including in Australia and Mexico.
The heritage team wants to link the sites together to widen the appeal.
The proposal will be sent to the United Nations Educational, Scientific and Cultural Organization (Unesco).
Deborah Boden, co-ordinator of the Cornish Mining World Heritage Site, said: "It's going to take a long time to get an international bid going. We know there's real interest out there in the international community.
"It will be interesting to know what the Cornish community think about using world heritage status to link the Cornish family back together again."
'We are all custodians'
The world heritage team in Cornwall is inviting public comment on how the World Heritage Site would be cared for and how development would be managed over the next five years.
World Heritage Sites are examples of cultural and natural heritage that are considered to be of international importance, as recognised by Unesco.
In 2006 Unesco included 10 former mining areas across Cornwall and West Devon on the World Heritage List.
Proposals from the last plan, in 2006, have seen 60km of new multi-use trails, a cultural events programme which has delivered over 100 performances to 25,000 people, and £60m invested in mining heritage conservation.
Julian German, the Cornish Mining World Heritage Site Partnership Board chairman, said: "The Cornwall and west Devon mining landscape belongs to the world, and we are all custodians, charged with ensuring our heritage is preserved for the enjoyment of future generations."
The closing date for comments about the latest proposals is 14 January 2013.