Cornwall 'seagull proof' rubbish bag trial 'encouraging'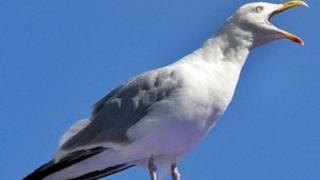 A "seagull proof" rubbish sack trial in Cornwall is proving successful, the council has claimed.
About 1,500 homes were given the woven polypropylene and hessian sacks to test their effectiveness against the gulls.
Cornwall Council said early results from the three-month trial in Porthleven, Looe, Newquay, Polperro and St Austell were "encouraging".
If the scheme is rolled out countywide, town and parish councils could charge residents for the sacks.
No price has been set, but it is thought the sum could be about £3.
At 1.5 metres (5ft) long and 60cm (23ins) wide, the sack has a Velcro-like fastener at the top and holds up to three plastic bin bags.
'Healthier for children'
Esther O'Bearagh, from the council's waste and recycling department, said the problem of plastic bin bags being torn open was a problem "across the board" both in coastal and inland areas of Cornwall and although seagulls were the main culprits, other animals were sometimes responsible.
"If I put my rubbish out the night before and didn't contain it, the foxes would have mine - it wouldn't be a seagull," she told BBC News.
Waste collectors said since the trial began four weeks weeks ago there had been a marked decrease in the amount of rubbish strewn across the streets, thereby reducing the time it takes to collect the rubbish.
St Austell councillor Jenny Stewart said the sacks were keeping the streets clear, which was healthier for children playing outdoors.
Ms O'Bearagh said the council would be writing to homeowners taking part in the pilot to ask what improvements could be made to the sacks.