ShelterBox: 'Order' led to Tom Henderson sacking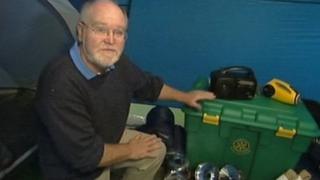 ShelterBox has revealed it sacked its chief executive after he tried to place a £650,000 order with a firm it alleges has a connection with his son.
The Cornwall-based charity also claims Tom Henderson did not give satisfactory answers to the charity's management.
At a press briefing, the charity released a copy of its serious incident report to the Charity Commission.
Mr Henderson and his son John strongly deny the claims, and say they have nothing to hide.
ShelterBox was started in 2000 by Tom Henderson who had the simple idea of placing all the items a homeless family of 10 could need in one big plastic box.
'Very concerned'
It proved enormously successful and the boxes are seen in disaster zones around the world.
Tom Henderson was awarded the OBE for his work, so there was shock in July when he was sacked from his chief executive post.
ShelterBox claims Tom Henderson attempted to place an order worth £650,000 for tents and survival tools with a company called Found International. It also claims that his son John was connected with that company.
Ian Munday, chair of trustees at ShelterBox, said: "Tom was unable to provide us any satisfactory answer to our questions as exactly what the relationships were between the companies he was placing orders with and his son John's business.
"We were very concerned that as we are spending donors' money, we have to make sure we spend it correctly and properly and there's no serious conflict of interest."
In a statement, John Henderson said: "We truthfully have nothing to hide.
"We strongly deny the claims made by the charity and we believe they have no evidence for them.
"We will consider the details and give a full response when my father gets back from the Far East next week."
ShelterBox trustees have upheld the sacking decision.