Essential cleaning for loggerhead turtle in Newquay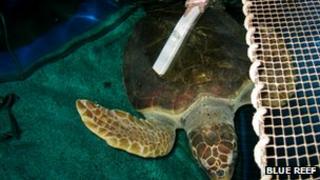 A giant rescued sea turtle has been enjoying his own version of an all over body scrub at a Cornish aquarium.
Omiros is a 1.5m long loggerhead turtle, who needs regular cleaning sessions to maintain his health, Newquay's Blue Reef Aquarium said.
They use long brushes to clean algae and other growths from his shell.
Turtles normally use cleaner wrasse, small fish which feed on dead tissue and scales, but Omiros has grown too big for them to carry out the job.
Blind and entangled
Jenni Smith, from the aquarium, said: "Omiros shares his display with a variety of species, including some cleaner wrasse, which do their best to keep him clean but he's just too big for them to keep up.
"By using brushes to gently clean him we're able to minimise the chance for any infections to spread."
Omiros was rescued by Archelon - the sea turtle protection society of Greece in April 2010.
He was discovered blind and entangled in fishing nets with old head injuries caused by fishing gear.
Omiros was moved to the Newquay aquarium because experts believed he would not be able to survive in the wild.
Ms Smith said: "We're able to offer Omiros a safe, secure and spacious environment where he can be looked after.
"His presence here at the aquarium also helps to raise awareness of the importance of sea turtle conservation and rescue work both here in the UK and throughout the world."