Inquest hears Philpotts son 'may have been killed by sledgehammer'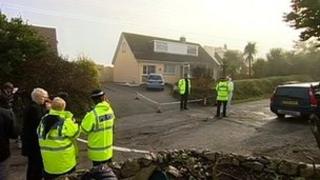 An inquest into the deaths of three members of a family in Cornwall has heard a 10-year-old boy may have been killed with a sledgehammer.
Ben Philpotts was found with head injuries after a fire at the family home in Trevarrian, Newquay, in January 2010. His mother Patricia also died.
Ben's father Harold, 47, - believed by Devon and Cornwall Police to be responsible - died from burns.
The 47-year-old, who had mental health issues, had been asked to move out.
'Broken glass'
Forensic scientists told the inquest it appeared Mrs Philpotts died in a flash fire after her badly burned body was found near a petrol can.
Mrs Philpotts' mother, who lived with the family, said she had heard an explosion and the sound of broken glass but had been unable to reach her daughter because of thick smoke.
The scientists said ten-year-old Ben was found with severe head injuries in his bedroom. A sledgehammer was lying nearby.
His father was found outside the property with serious burns and died in hospital eight days later.
The inquest heard that Mr Philpotts had previously been admitted to hospital for mental health problems which included depression, delusion and paranoia, but he had discharged himself before treatment.
It was said that he had been convinced he had HIV and cancer and had Ben tested for HIV. He had also been asked to move out of the family home due to his behaviour.
A serious case review, by the Cornwall and Isles of Scilly Local Safeguarding Children Board published in July said that although Mr Philpotts was known to the authorities to have mental health issues, the death of Ben and his mother could not have been foreseen.
However, the summary cited "weaknesses" in practices within mental health services and communication between agencies, and said Ben's safety at the hands of his father had not been sufficiently considered.
The inquest, conducted by Cornwall Coroner Dr Emma Carlyon in Truro, continues.