Wildlife site status for restored Cornish clay pit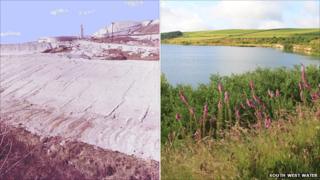 A former china clay pit in Cornwall which was transformed into a reservoir has been granted special status for its nature conservation value.
South West Water (SWW) bought Park Pit and the surrounding industrial land on Bodmin Moor from Imerys in 2007.
At the time, ecologists described the area around Park Pit as a "moonscape of waste sand and mica".
But the 125 hectares of land around the reservoir have now been officially designated a County Wildlife Site.
The designation was agreed by a panel of experts from Cornwall Wildlife Trust, the Environment Agency, Natural England, Cornwall Council and the Farming and Wildlife Advisory Group.
No 'quick fix'
Imerys relandscaped the area and reseeded it with heather, while SWW, under guidance from ecologists, carried out invasive species control to enable rich and diverse plant and animal life to flourish.
Since the initial reseeding, vegetation has continued to develop naturally and ecologists surveying the land have recently found two species which are very rare in Cornwall - marsh clubmoss (Lycopodiella inundata) and stagshorn clubmoss (Lycopodium clavatum).
Marsh clubmoss is a nationally-threatened species and although stagshorn clubmoss is common in northern parts of the British Isles, it was thought to be extinct in Cornwall.
The two species were discovered by ecologist John Sproull, from Cornwall Environmental Consultants.
He said the Park Pit area had been transformed and was now one of the best sites for nature on Bodmin Moor.
"Finding new populations of rare plants like this is not only really unusual and exciting but of some significance for the conservation of species countrywide," Mr Sproull added.
Restoration expert Ian Davies said SWW had made the right decision to work with nature and the existing ecology rather than go for a "quick fix" solution which would have provided "inappropriate" surface vegetation.
"Whilst the regeneration was initially slow - a characteristic of low nutrient habitats like Park Lake - the direction of travel towards a high quality heathland habitat was clear," Mr Davies said.
"Now, the heathland is looking very good indeed, with good populations of rare breeding birds and characteristic invertebrates."
Neil Whiter, from SWW, said the company had a "long-term commitment" to the environment.
He said transforming Park Pit from a derelict china clay site to a public water supply and nature-rich landscape had been a "daunting but exciting project".
"Park Lake is already a diverse and fascinating site, but it has an even more exciting future as it matures," he added.