Cornwall firm Warrens says cold pasties turn off customers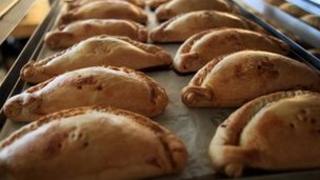 A Cornwall-based pasty producer is turning its warming cabinets back on after a fall in sales.
The firm switched off its cabinets after a 20% VAT charge was introduced on food kept hot.
But Warrens, which has 58 stores across south-west England, said customers were fed up with cold pasties.
Jason Jobling, from Warrens, said the decision to sell cold pasties had "really damaged the business" and had led to some customers walking out.
Mr Jobling said: "We [were] left with a dilemma on what to do really. We did some feedback and some surveys and the general feedback was that the customers were unwilling to pay the 20%."
Mr Jobling said the loss of sales had persuaded the company to reintroduce the warming cabinet and hot pasties.
'Received really well'
He said: "We're not charging the full 20%, we've charged a percentage and we're taking a little hit as well.
"Generally it's been received really well. We've already seen an increase back to the original sales."
Plans to extend VAT to all food sold hot, with the exception of freshly-baked bread, were greeted with widespread protests.
In May the government altered the definition of what is a "hot" pasty to allow the reversal of its plans.
After the amendment, products such as sausage rolls or pasties sold on shelves - that is, cooling down, rather than being kept hot in a special cabinet - were not liable for VAT.