Royal Cornwall Hospital criticised over surgeon concern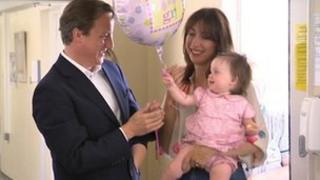 The Royal Cornwall Hospital was criticised over the way it handled concerns about a surgeon, it has emerged.
The report said there had been a clear opportunity in 2007 to deal with a number of the issues and consider referral or retraining.
It was not until May this year that Rob Jones was suspended.
The Royal Cornwall Hospitals Trust (RCHT) has started a review into how it handled concerns.
Eight reviews
Mr Jones maintains he has been a caring doctor throughout his career and followed national protocols.
He worked at the Royal Cornwall Hospital for 20 years and delivered the prime minister's youngest child in 2010.
On Wednesday the RCHT confirmed it was reviewing the work of the former gynaecologist.
The trust said concerns had been raised about his clinical competency since 2000 and that eight reviews had been carried out into his work before he was suspended.
A report from the Royal College of Obstetricians and Gynaecologists in May contains a number of serious concerns about Mr Jones and said:
The frequency of surgical complications in the form of returns to theatre... following surgery are considerably in excess of what would be expected.
He does not adequately adhere to guidelines.
He does not write adequate notes.
The report also reveals "disappointment" at the way the RCHT managed the situation.
Patients hot-line
After Mr Jones was suspended he resigned and voluntarily removed himself from the General Medical Council Register.
The RCHT has begun two independent inquiries - one into Mr Jones's work at the hospital and another into how the trust handled whistleblowing accusations about the surgeon's competency.
An RCHT spokesman said it would not comment on how it handled the case until the report was published by the end of the year.
The Medical Defence Union, which is representing Mr Jones, said he was unable to comment because of patient confidentiality.
About 1,500 women treated by him are to receive a letter from the RCHT.
A hot-line for concerned patients - 0800 1804514 - is open from 08:00 to 20:00 on weekdays.