Navy's newest ship visits Fowey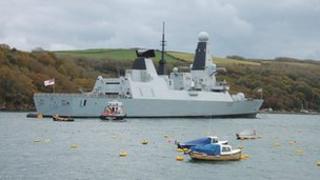 The Royal Navy's newest warship, HMS Dragon, will open to the public this weekend during a visit to Cornwall.
HMS Dragon is the first of her class to visit Fowey and one of the largest warships to sail into the estuary.
Members of the ship will lay a wreath at the Fowey War Memorial on Remembrance Sunday in honour of the fallen.
The ship's commanding officer, Commander Darren Houston said the crew were "delighted to visit Fowey."
Commander Houston said: "The historical ties between the Royal Navy and Fowey makes this a popular destination for ships."
'Tight entrance'
The £1bn HMS Dragon was commissioned into service with the Royal Navy on 27 April.
The warship has been at sea carrying out operational sea training. It will be deployed in the new year.
Dean Golding, the ship's physical trainer, originally from Falmouth, said: "The people in it make the ship as good as it is. We've got a great gymnasium on board.
"Everyone in the Navy has to take a fitness test every year. If they fail it, it's my job to ensure they're fit again."
On Saturday the public will be able to visit the warship and find out more about its work.
Command Houston said: "HMS Dragon was built on the Clyde. We've built up a ship's company of 190. Quite a few Welsh and quite a few from Cornwall as well.
"The reason we're in this area is for training. We are probably the biggest that has been in the estuary for quite a while. It's a fairly tight entrance to get in."
HMS Dragon is one of Britain's six Type 45 destroyers. The Royal Navy said they were the most advanced warships the nation has built.
Commander Houston said: "We return to our base port in Portsmouth shortly. In the early part of the spring we will sail for operations and that could be anywhere worldwide and that's what we're training for at the moment."
The Type 45s can be used as general-purpose warships. They have large flight decks to accommodate helicopters up to the size of a Chinook.