Information hotline over Cameron baby surgeon concerns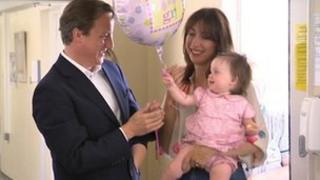 Patients concerned about investigations into a former gynaecological consultant in Cornwall can now access a telephone information hotline.
The Royal Cornwall Hospitals NHS Trust (RCHT) is reviewing the work of former obstetrician and gynaecologist Rob Jones, who delivered the prime minister's youngest child.
About 1,500 women treated by him are to receive a letter from the RCHT.
The hotline - 0800-180-4514 - is open from 08:00 to 20:00 on weekdays.
About 30 people had contacted the hotline by Thursday afternoon, the RCHT said.
Mr Jones, who worked at the hospital for 20 years and delivered Florence Cameron in 2010, has resigned and voluntarily taken his name off the medical register.
Eight reviews
Lezli Boswell, chief executive of the Royal Cornwall Hospitals Trust, said there had been concerns raised about his clinical competency since 2000 and eight reviews had been carried out into his work before he left in May.
The BBC has seen details of a 2007 inquiry which raised possible concerns that the surgeon had failed to follow national guidelines in treating women with growths.
The General Medical Council said it met with Mr Jones him in May and that he agreed to voluntarily remove himself from its register.
The RCHT said it was after an incident related to surgery.
However, his name was not taken off until 1 October, the BBC has been told.
It is not known if there was a problem with any de-registration process, or if any other factor prevented his name from being removed sooner.
Mr Jones said he had always followed national protocols and had been a caring doctor throughout his career.
Women treated by Mr Jones over the last two years are to receive the letter from the trust.
The trust has not commented on why the hospital did not act sooner to alert patients.
Downing Street said it would not comment on issues surrounding Mr Jones.