Councillor opposed to incinerator signs off project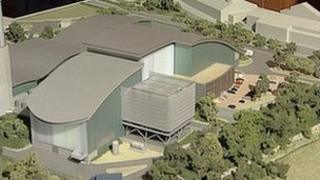 A councillor who opposes a £117m waste-to-energy incinerator in Cornwall is now having to sign off the project after legal moves by opponents failed.
Lance Kennedy, councillor for the environment and waste, said it was "ironic" but having studied the plans there was "no choice but to progress".
Opponents of the St Dennis plan have been through every judicial process permitted by the courts.
The plant was given final clearance at the Court of Appeal in March.
Compensation of £200,000 a year for the first three years will be paid to a community fund for the village of St Dennis, then a reduced figure of £100,000 for the remainder of the contract - which could last 30 years.
Councillor Fred Greenslade, who represents the area, said: "I think there would be many people in the area that would say it was blood money or that it was a sell-out."
Cornwall produces about 300,000 tonnes of waste a year and, according to the County Council, the region will run out of landfill space by 2014.
The incinerator will be built by Sita UK, which signed a 30-year-contract in 2006 to handle Cornwall's waste.