Cornish sleeper train introduces duvets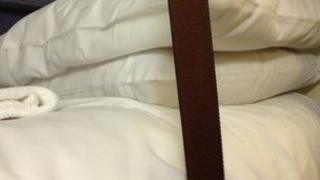 First Great Western has replaced the traditional blanket and sheet combination with duvets for the first time.
The company, which operates a sleeper train from Penzance to London, said it had bought 1,000 duvets.
The move has been welcomed by George Eustice, the MP for Camborne and Redruth who is a regular user of the service.
The company said it had made the move after listening to customers.
'Boarding school'
Mr Eustice said: "We had sheets and blankets a bit like a boarding school on the sleeper train.
"A friend of mine said he had been on the sleeper train with duvets. I said I thought he had got that wrong, but sure enough when I got on the train last night we had duvets."
Vince Nichols, the depot manager at Penzance railway station, said the blankets and sheets would be donated to a local charity.
He said: "We will be getting them all cleaned and they will probably go to a charity where they can be distributed to needy people."
The Night Riviera sleeper travels between Penzance and London six nights a week.
It leaves Penzance at about 21:30, arriving at London Paddington at about 05:30 the following morning.
It stops off at towns in Cornwall and Devon, including Plymouth and Exeter.