Eye-gouge man Shane Jenkin loses appeal over Tina Nash attack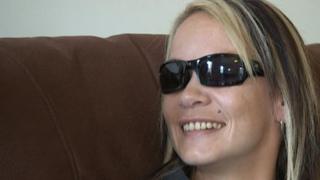 A man jailed for life for blinding his girlfriend by gouging out her eyes has had an appeal against his sentence refused.
The Court of Appeal upheld Shane Jenkin's life sentence, with a minimum term of six years before he can be considered for parole.
Jenkin, 33, blinded his girlfriend Tina Nash in an attack at their home in Hayle, Cornwall, in April 2011.
Ms Nash said: "Justice has been served."
Jenkin was sentenced at Truro Crown Court in May to a secure mental health unit after he admitted inflicting grievous bodily harm.
His lawyers argued at the Court of Appeal that the life sentence should be quashed to allow him to go free when his doctors are convinced he has beaten his mental illness.
But the judges ruled that Jenkin was dangerous with or without a mental illness.
Ms Nash, 31, said: "This is it, he's out of our lives forever.
"I can start looking forward to Christmas, I'm very happy.
"He's a dangerous man, he's not to be let out again."
Jenkin imprisoned Ms Nash for 12 hours after the attack, which also resulted in her jaw being fractured and her nose broken.
The judge at Jenkin's trial said the attack was one of "extreme violence with catastrophic consequences".