Lostwithiel flood scheme residents unhappy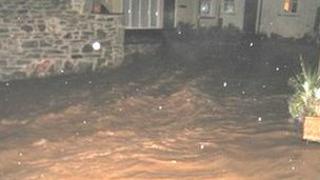 Residents in Lostwithiel say they are disappointed by a Cornwall Council programme designed to keep their houses safe from flooding.
The council carried out work to reduce the risk of flooding after heavy rain in November 2010 left large parts of the area under water.
A council spokesman said most people who had work done were satisfied with the changes made to their homes.
Lostwithiel, St Blazey and Mevagissey were affected by the 2010 floods.
Derek Baynton, one of the unhappy residents in Lostwithiel, said: "Without exception everyone who opted into the scheme has got great complaints about the quality and standard of work.
"A number of things went wrong. The drains have been adversely affected, pipes fitted without seals, various other problems."
Cornwall Council said the scheme was the largest in the country and it had spent hundreds of thousands of pounds trying to keep properties safe.
The funding came from flood defence grant aid from the Environment Agency supplemented by local contributions from the council.
Work carried out since the flooding includes non-return valves on domestic pipework, to reduce the risk of flooding to properties, and flood resistant doors.
Martin Clemo from the council said: "Generally speaking we've had positive feedback. It's a big scheme. We're going to have individual properties with problems.
"We've tried to resolve those on a one-to-one basis."
Lostwithiel residents are hoping a new £2.8m storm tank will reduce the risk of flooding.
It is being built on farmland near the pumping station at Coulson Park in Lostwithiel, and should be operating by the end of this year.
The tank has been designed to store water from the pumping station during times of heavy rainfall.