Cornwall Council scheme to fill uninhabitable homes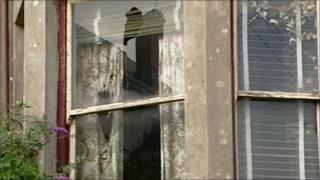 A scheme has been set up which aims to bring uninhabitable properties back into use in Cornwall.
Cornwall Council plans to provide low-interest finance for owners who cannot raise money through conventional lenders for renovations.
The council says there are more than 3,500 uninhabitable properties in the county.
It is holding an open day on Friday in St Austell to provide more information about the Empty Property Loan Scheme.
'Difficult to mortgage'
In July the council revealed some privately-owned houses had been empty for more than 20 years.
Cabinet member for housing and planning Mark Kaczmarek said: "The issue of empty properties is the subject of increased national and local awareness and action.
"Many empty properties are likely to be difficult to mortgage through conventional lenders and it is the council's aim to provide financial assistance in those circumstances through its new Empty Property Loan Scheme."
The scheme offers up to £20,000 of finance for necessary repairs and renovation to bring a property up to a respectable standard.
The council said the loan would be repaid on the sale of the house.
Cornwall Council does have the power to compulsorily purchase an empty home "in exceptional circumstances" but as yet this has not happened.