Liskeard scissors murder accused 'did not mean to hurt husband'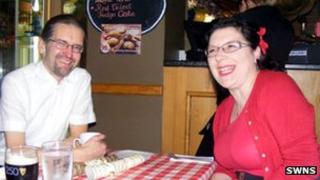 A woman accused of murdering her husband with a pair of scissors said she did not mean to kill or injure him.
Sandra Clinch, 49, denies murdering Alan Clinch, 48, at their home near Liskeard in Cornwall in May.
Mrs Clinch confirmed to the jury at Truro Crown Court that she did pick up the scissors.
Prosecutors said she stabbed her husband and have accused her of changing her version of what happened to police.
Mr Clinch was found injured at the house on 13 May, before he was flown by air ambulance to Derriford Hospital where he died from his injuries.
A Home Office pathologist previously told the court the scissors penetrated to a depth of 12cm.
Victim 'stumbled'
The court previously heard that Mr Clinch - her fourth husband, whom she had been married to for nearly three years - had refused to help her tidy their home ahead of guests arriving for Sunday lunch.
He had gone downstairs to clean up the yard and did not return inside immediately.
Mrs Clinch told the court that while tidying up she picked the scissors up "and went to throw them".
Andrew Langdon QC, defending, asked: "Where was Alan Clinch when you next became aware of him?"
Mrs Clinch replied: "About a foot away from me, on my left."
She said he was "beginning to stumble backwards with his hand on his chest".
Mr Langdon asked her: "Did you intend to kill him?"
Tearfully, Mrs Clinch replied: "No, I didn't."
Paul Dunkels QC, prosecuting, accused Mrs Clinch of changing her story repeatedly when talking to police, including altering demonstrations of how she said she threw the scissors when she had stabbed her husband after losing her temper.
After Mrs Clinch showed the jury how she thought she had thrown them, Mr Dunkels said: "You're searching for the acceptable demonstration of a throw. But, as you didn't throw the scissors, you have no set picture in your head.
"That's why your demonstration [to police and in court] wobbles and varies so much."
The court had previously heard that Mrs Clinch had a history of violence against her former partners and her five children.
Testifying, she said she had suffered from mood swings all her adult life and had sought help from her GP.
The case continues.