Sponge crab caught by Cornish fisherman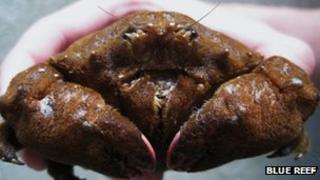 A rare sponge crab has gone on display at a Cornish attraction after being hauled up in the nets of a Newquay fisherman.
The crustaceans get their name from the fact they hold living sponges on top of their shells as a means of camouflage.
This crustacean, caught by Gary Eglington, is now without its sponge after it was taken by another crab.
Staff at the Blue Reef Aquarium, in Newquay, are looking after the crab, nicknamed Bob.
Chloe Kingston, from the aquarium, said: "Bob, as he's been nicknamed, went into one of our native marine displays alongside another crab which had lost its sponge.
Numbers have increased
"Within a couple of days we noticed that Bob's sponge had disappeared while the other crab was now sporting a new spongy suit."
Sponge crabs have two pairs of modified legs tipped with needle-like pincers which they use to secure sponges which sit on their backs.
They are quite adept at moving sponges over the whole of their body to enable them to hide.
They only have two pairs of legs to walk on so tend to also use their front claws to help them.
Sponge crabs are more commonly seen off the west coast of Africa or in the Mediterranean, but in recent years their numbers have increased in British waters.