Truro experts uncover '6000-year-old' causeway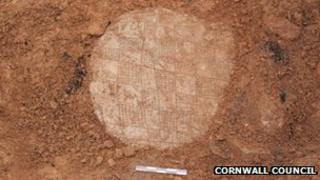 Remains of a prehistoric enclosure have been discovered by archaeologists in Truro, Cornwall.
It is understood the enclosure was built during the early Neolithic period (3800 BC to 3600 BC).
Archaeologists say it was built at the same time as Carn Brea, a tor enclosure near Redruth.
The team will now take samples to verify the date of the enclosure, before re-burying the site, in line with national guidelines.
Dan Ratcliffe, from Cornwall Council's Historic Environment Service, said: "A causewayed enclosure was a large circular or oval area enclosed by a large bank and ditch.
"These sites date to the early Neolithic period - a period which also saw the introduction of agriculture to Britain, the domestication of animals, the manufacture of pottery, and the first appearance of large communally-built, ceremonial monuments."
Supermarket site
Around 80 sites with evidence of causewayed enclosures are known across southern Britain.
The find at Truro is the first to be discovered to the south west of the border between Dorset and Devon, although Carn Brea and also Helman Tor, are thought to have been built at the same time and may have served similar functions.
The discovery was made by archaeologists working at the site of the future Truro Eastern District Centre (TEDC ), which include a supermarket, a food hall and 97 homes.
Tim Wood, Cornwall Council's assistant head of transportation, said: "The proposed development has sufficient flexibility in the design to ensure that the construction above does not interfere with the archaeological remains."
Mr Ratcliffe said: "While it is important that we take the opportunity to learn more about our findings now, best practice is for the site to be preserved for future generations of archaeologists who will have better technologies to understand it than we do today."
The excavations are a requirement of the planning conditions placed on the TEDC development, which is a partnership between the Duchy of Cornwall, Cornwall Council, The Taste of Cornwall and Waitrose.