Helicopter flights from Penzance to Isles of Scilly end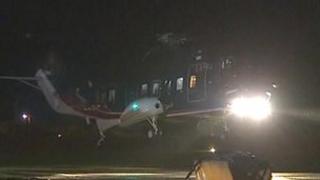 The Penzance-Isles of Scilly helicopter service has touched down in Cornwall for the last time after its operator decided it was not profitable.
British International Helicopters (BIH) operated flights from Penzance to Scilly for almost 50 years.
It means travel to and from the islands will now be by plane or ferry, the Scillonian, which runs in the summer.
Emergencies will be answered by the Royal Navy air sea rescue crews and the Cornwall Air Ambulance.
The Isles of Scilly Steamship Group currently operates fixed wing, passenger ferry and sea freight services to the islands.
Plane services run six days a week.
'Such a boost'
Jeff Marston, from the company, said: "We have reworked our Skybus schedules for next season to give us more flights and we are in the course of acquiring another Twin Otter aircraft that will further boost capacity from March next year."
The Isles of Scilly relies heavily on tourism with thousands of people visiting each year.
Veronica Maple, from St Mary's, who has been a regular user of the helicopter since it started, said: "The helicopter is such a boost. Lots of visitors come to Scilly for the novelty of riding on a helicopter."
Malcolm Bell, the head of Visit Cornwall, said: "We have got to up some of the PR and some of the angles of promoting west Cornwall. It is a unique part of Cornwall as well as Cornwall being a unique part of Britain."
Islanders have been reassured that they will not be left isolated by the Cornwall Air Ambulance in medical situations.
Tom Matthews, from the service, said: "We're not going to abandon the islands.
"We're here 365 days of the year, and they won't be cut off for medical evacuations and medical transfers."
The final flight took off from the islands at about 17:30 GMT.
A small crowd watched the aircraft arrive back in Penzance about 30 minutes later.
BIH staff also gathered in front of the aircraft after it landed.