Hurricane Sandy left New York 'like movie set' for Cornish family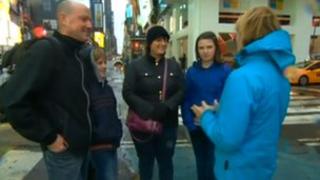 A family from Cornwall who experienced the storm Sandy said the aftermath in New York was "almost like being on a movie set".
Jonathan and Sarah Trethowan, who live near Truro are in the city with their family for the half-term break.
Mr Trethowan said experiencing Sandy was "part adventure, part frightening" for his children.
Sandy smashed into the US East Coast, causing flooding and cutting power to millions, leaving New York devastated.
Mr Trethowan, speaking on Tuesday lunchtime, said: "We looked out of the window, it's still very quiet, a lot of debris on the street.
'Hair-raising'
"A lot of the buildings under construction have taken a beating."
New York, known as the city that never sleeps had "shut down, there's really nobody out there," said Mr Trethowan.
The family are staying in a hotel in a 60-floor building.
Mr Trethowan said: "For the children I think it was part adventure, part frightening.
"When the winds were at their strongest, we experienced something we'd never experienced before.
"The building was actually moving. We're nearly at the top of the 60-floor hotel. We could certainly feel it moving. It was quite hair-raising."