Paradise Park cockatoos have first chick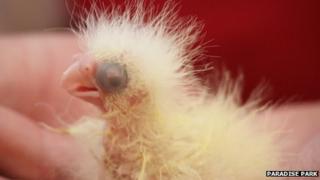 A pair of cockatoos smuggled into the UK from Australia as eggs have had their first chick at an animal park in Cornwall.
The red-tailed black cockatoo chick is being hand-reared by staff at Paradise Park, near Hayle, after being hatched in an incubator.
Its egg was taken away to be hatched because its parents had broken other eggs, the park said.
Staff said their latest addition was "very endearing".
The adult birds had so far not managed to raise any chicks because of previous egg-breaking, the park said.
Smuggling vest
Curator David Woolcock decided to prevent this by taking an egg before it was broken and hatching it in an incubator.
He said: "The little chick is very active and its long, fluffy, yellow feathers make it very endearing."
The parents were brought to the UK unhatched while hidden in a specially made vest.
A retired vet behind the smuggling was jailed for eight years for animal offences.
The birds, which are black with red tail feathers, usually grow to be between 55cm and 63cm (21 ins to 24 ins) tall, and can live for more than 100 years.
They can be found in flocks of hundreds or more than 1,000 birds across Australia, or just in small family groups.