Bats 'become feature of properties' in Cornwall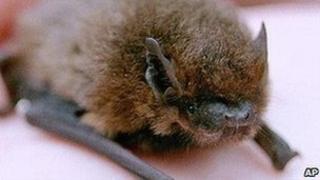 Bats or barn owls in properties in Cornwall are increasingly a feature or selling point, conservationists claim.
Cornwall Wildlife Trust's trading arm, Cornwall Environmental Consultants (CEC), said it found the protected creatures in at least one out of four of its surveys of properties and sites.
Householders and developers were also showing an increasing awareness of their habitats, it said.
CEC has just completed its 2,000th survey since being formed in 1992.
'Working round problems'
The CEC said it completed about three or four surveys a week and that it always got "at least one with positive results".
The work often involves leaving recording equipment for two or three weeks and then analysing any data recorded.
As well as examining buildings at new developments, nearby grasslands, woodland and hedgerows were also examined for signs of species such as dormice, it said.
If evidence of any creatures was found, "our involvement is to ensure that is that they remain protected".
Phil Hills, of CEC, said: "It's normally barns and outbuildings where bats and owls are found, but they can affect residential properties, particularly if they're old.
"At one hotel, we found nine different species of bats and they all had to be accommodated in its redevelopment.
'Selling point'
"We generally can find a way around any problems. It might involve moving them out of the way, doing work and then moving them back again.
"Some you may have to just leave a gap for bats to get back in. It needn't cost thousands."
Mr Hills said once work was done, it often helped secure a longer-term home for the creatures.
"They are also often a selling point for many of our clients," he added.