Cornwall Council hands Camelford leisure centre to residents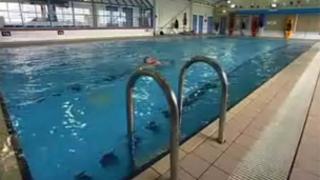 A Cornish leisure centre threatened with closure will be taken over by people who live nearby.
Cornwall Council has agreed to handover Camelford Leisure Centre to residents after two years of talks.
Camelford Leisure Centre Limited will start running the facilities on 10 December.
Mayor of Camelford Rob Rotchell said he believed their business plan was viable, although more people did need to use the centre.
A spokesman from the leisure centre said about 80,000 people used the facilities each year, including seven schools in north Cornwall.
The centre will have some short-term financial support from Cornwall Council including £30,000 a year for the next two years from the children's services department.
The future of the facility had been in doubt after the Conservative-Independent controlled council decided in 2011 to withdraw its funding as part of government cuts.
Mr Rotchell said: "The bottom line is we need more people to use this leisure centre.
"We've put together a seriously robust business plan...we believe it's a viable proposition long-term."
The plan includes sustainable energy systems to reduce running costs.
Camelford Leisure Centre Limited has been set up as a legal body with a board of trustees.