Scilly Isles firms 'precarious' as helicopter link ends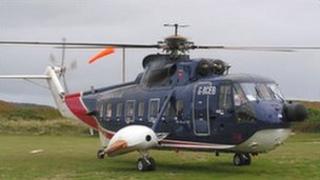 Running a business in the Isles of Scilly is becoming "precarious" as the end of a helicopter link looms, the government has been told.
The islands will lose their helicopter service on 31 October. A ferry runs for only seven months a year and a plane service is weather-dependent.
Lord Cameron of Dillington said transport to the islands also cost much more than services to Scottish islands.
The government said it did not want to interfere yet.
'Rapid decline'
Lord Cameron, an independent cross bencher, told the House of Lords: "The total absence of a ferry from November to March means running a business and running a normal life is becoming a pretty precarious enterprise."
He said the cost of transport was "four times more" than equivalent length journeys to Scottish islands.
He told peers: "As a result, business and the tourist industry in the Scilly Isles is suffering very badly and on a rapid decline compared to those industries in the Scottish isles."
Earl Attlee, answering for the government, said the Isles of Scilly Steamship Company, which operated ferries and fixed-wing planes, had announced plans to extend its service.
He said Transport Minister Norman Baker had recently met a delegation from the islands and would soon meet another one.
"The market has not yet failed," he said. "We do not want to interfere at this point because we want to see whether there will be a commercial solution to the problem."
British International Helicopters will stop its service on 31 October after running into financial problems.