Luxulyan Valley study into Phytophthora kernoviae plant disease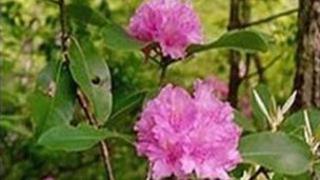 Research is due to begin in Cornwall into treatment for a deadly plant disease.
Scientists will study bilberry shrubs in the Luxulyan Valley as part of research into Phytophthora kernoviae.
The disease which is most commonly found in bilberry shrubs, rhododendrons and beech trees can cause browning of leaves, lesions, wilting and death.
The disease which was first discovered in Cornwall was named kernoviae after Kernow - the Cornish word for Cornwall.
Scientists from the Food and Environment Research Agency (FERA) will conduct the study into the fungus-like pathogen which affects the aerial parts of trees and shrubs.
Forestry Officer Colin Hawke from Cornwall Council said: "The scientists from FERA will be cutting the bilberry this autumn and spot-treating any infected bilberry regrowth.
"Meanwhile, ecologists from FERA will be setting up a series of sample pots to study the effects of the treatment."
Cornwall Council said anyone visiting the valley should stay on the pathways and clean their footwear to ensure the disease was not spread further.