Ground is cleared for Saltash Celtic Cross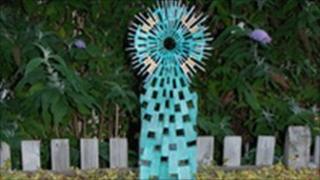 An area of ground in Cornwall is being cleared ready for a 20m (66ft) Celtic cross to be put up.
Devon and Cornwall Air Cadets have been working at Elwell Woods in preparation for the Saltash Celtic Cross to arrive.
The cross, which will be near the Tamar Bridge, is part of a woodland regeneration programme and it is hoped will attract tourists into the town.
It is anticipated that the cross, designed by Simon Thomas, will be put up in January.
Town 're-regeneration'
Joe Ellison, a Saltash town councillor and project leader, said: "This is the final stage. The cross itself is virtually finished now, there's one component still to be manufactured.
"Because of the sheer length it can't go through the Glynn Valley to Saltash so it's going to have to go via the A30 to Exeter and back over the bridge to Saltash."
The cross is made of carbon and resin and will be finished in gold, silver and copper to reflect Cornwall's history of mining.
Mr Ellison said: "We think it will bring visitors into Saltash, who will bring money into Saltash and it will be a good way of re-generating the town."
In January an orchard with up to 20 varieties of Cornish apple will also be planted at the site as part of the project in a bid to restore it to its original use.