Mary Unwin: Search for missing yachtswoman called off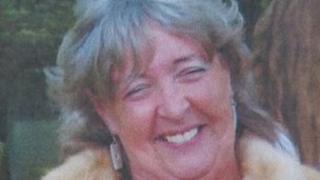 The search for a missing 65-year-old yachtsman has been called off in Cornwall, coastguards have confirmed.
Mary Unwin has been missing since setting sail from Mousehole, Cornwall for Bideford, Devon on Saturday in a yacht she bought on Thursday.
The Maritime and Coastguard Agency (MCA) said: "The search for the yacht skipper has now ceased."
It added that wreckage found at Sennen Cove on Monday was being analysed and was "likely" that of the Seagair.
The wreckage was found during an air and sea search involving lifeboats from Penlee, Sennen and St Ives, as well as helicopters from RNAS Culdrose and RMB Chivenor.
The MCA said coastguard teams had been comparing photographs of the yacht with the wreckage.
It added: "At this time it seems likely that this wreckage could be from the Seagair."
Mrs Unwin bought the £32,000 yacht in Falmouth and was accompanied by Carol Unwin, her ex-husband who she had remarried on 5 October.
She left Falmouth in the yacht on Friday despite being advised by the sellers Falmouth Yacht Brokers not to make the trip on her own and without collecting the paperwork.
On Saturday she left Mousehole at about 18:30 BST to sail to Bideford.
Coastguard Mark Leslie said: "Most people would try and do a transit like that possibly in the day or in good conditions.
"The lady had worked out her tides to make sure she had got to Bideford at the right tide, but unfortunately that tide took her around Lands End at night and historically we have numerous wrecks and ship wrecks around Land's End in all conditions.
"It does look like we've come across a wreckage from a yacht."
Jayne Hobkirk, from Falmouth Yacht Brokers, said: "She said she had a captain's ticket, but it sounded like she hadn't done any sailing for many years.
"I told her to get a refresher course, but that would normally take some days."
Mr Unwin described his wife as "very, very independent" and "headstrong".
Before the search was called off, he told the BBC: "She knows what she's doing and at the moment she's probably moored up somewhere.
"I'm not concerned because she knows how to cope with situations."
The Seagair, built in 1985, was described by the brokers as having been "maintained in excellent condition" and "in great condition for her age".