Events proposed for Falmouth's Prince of Wales Pier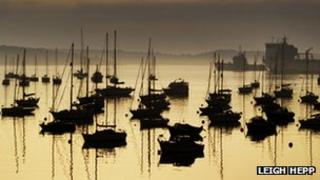 One of Falmouth's prominent landmarks, the Prince of Wales Pier, could soon stage events in an attempt to increase the number of visitors.
The Falmouth Community Interest Company (CIC) wants to look after the top deck of the pier.
The CIC is discussing the idea with Cornwall Council, which owns the pier and will still manage it.
Andy Brigden, the council's maritime manager, said in the current climate any financial boost would be welcome.
Mr Brigden said at the moment the pier costs about £30,000 to maintain each year, which is the same amount it generates.
David Pollard from the CIC, a not for profit community group, said: "It's a typical Victorian pier. There's an upper deck which is long and quite wide in parts.
"We want to see if we can get activities and events going, and to take over the loos on the pier as well."
He said markets could be held on the pier and musicians could perform there.
Pete Skinner, one of the traders, said: "There's a lot of people who think there's not much down here when you first look.
"So we're putting flags and flower pots out to try and draw trade down."
Mr Brigden said: "I am not an events manager, but if other people can come on board and do it that's fantastic.
"You've got to be looking for smart ways to do more with less."