King Edward Mine museum given lottery funding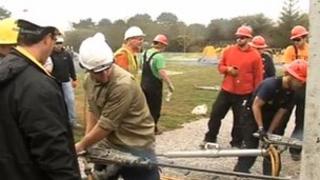 Cornwall's oldest complete mine site has been given lottery funding to create more activities for young people.
The King Edward Mine Museum near Camborne has been awarded a grant of £35,700 by the Heritage Lottery Fund.
The money will be used to encourage more young people to visit and learn about Cornwall's mining heritage.
The mine was operational until 1921, it was also used as a training mine, by the Camborne School of Mines.
The project will also investigate the flora and fauna of the site and the archaeological remains in the area.
Tony Brooks, who chairs King Edward Mine Ltd said: "This is a real boost for us as it will enable the museum to move forward in areas that up until now we have been unable to progress."
The team at the mine hope to build on the success of the 24th International Mining Games which were held at the site earlier in the year.
Volunteers at King Edward Mine Museum are looking for more people to become involved.