Boat study to find non-native sea species in Cornwall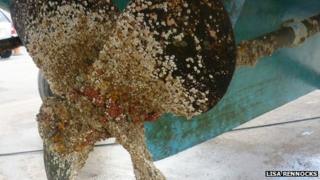 Boat owners are being asked to take photographs of marine life attached to their crafts in a bid to find non-native species in Cornish waters.
Cornwall Wildlife Trust plans to create an inventory of plants and animals which have attached themselves to boats.
The carpet sea squirt and some species of Japanese seaweed both affect native species, the trust said.
Organisers hope the study will detect the arrival of non-native species.
Project co-ordinator Lisa Rennocks said: "Not all non-native species are a problem, it's only a small percentage but we are interested in that small percentage.
"The [non-native] carpet sea squirt can affect our shell fisheries by smothering oysters and mussels."
The species, which was first confirmed in British waters in 2008, is a filter feeding invertebrate that forms large colonies on hard structures.
Ms Rennocks said some Japanese seaweed found in British waters grew so big that it could prevent light reaching the UK's native species.
She said non-native plants and animals had arrived in the UK in ballast water, through the exotic pet trade and by attaching themselves to boats.