Cornwall charity cyclist Wayne Davey hit by bus in US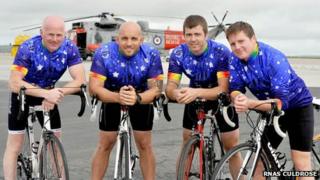 A charity cyclist who was part of a team from Cornwall riding across the US pulled out after a crash with a bus.
Wayne Davey, 34, a paramedic who works with 771 Squadron at RNAS Culdrose, was injured 65 miles (105km) from the finish line at Times Square, New York.
He broke his arm and shoulder blade but said it was "insignificant" compared to what could have happened.
Ben Carthey and John Williams completed the 3,100-mile (5,000km) route, which started in San Diego, on Tuesday night.
The men called themselves the Cornish 3100 team.
Mr Davey said: "It's pretty close to the finish, but we've had a chat about it and I was pretty close to going under the back wheels of the bus, so the injuries that I've sustained are pretty insignificant to what could have happened."
Justin Morgan, a Royal Marine at RNAS Culdrose, who was also part of the team which set off on 24 September, witnessed the incident.
He said: "We were overtaken by a school bus which made an immediate right turn and basically rode straight over Wayne.
"I saw that Wayne was conscious and not incredibly hurt, so I gave chase to the bus and tried to stop him. I did catch him up about five miles (8km) down the road and pulled him over.
"At that point he got a very angry Royal Marine explaining the situation and I took him, like a naughty school boy, back to the scene of the accident to the police."
Mr Morgan said that after the incident he too had pulled out of the challenge.
During the challenge the team crossed 12 states and averaged about 182 miles each day in the hope of raising £20,000 for local and national charities including Children's Hospice South West.
In 2008, Mr Davey was in the Scilly Boys team which attempted to row 3,200 miles (5,150km) from New York to the UK in fewer than 55 days.
The attempt ended prematurely when the boat capsized in rough seas and the team had to be rescued 800 miles (1,287km) off the US coast.