Leader Alec Robertson accepts his deputy's resignation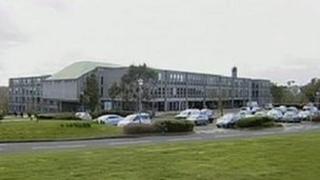 The leader of Cornwall Council has written to his deputy, Jim Currie, accepting his resignation.
Councillor Currie announced his resignation to fellow councillors in an email, saying that plans to part privatise some key council services were a step too far.
Council leader Alec Robertson said Mr Currie had done a "great job".
In his email Mr Robertson said Mr Currie was "clearly out of step" with the rest of his cabinet colleagues.
Mr Currie said the financial risks behind privatising services including libraries were "unacceptable".
"I could not leave local government with billions of pounds of Cornish taxpayers' money at risk and on my conscience," he said.
Mr Robertson, a Conservative, is due to face a vote of no confidence on 16 October.
'Wasted' millions
In his resignation email, Mr Currie, a councillor for Feock and Kea, said: "We have wasted £42m plus on the unitary [authority], £42m plus on the [St Dennis] incinerator and we are now proposing to risk a great deal more on the joint venture."
The joint venture plans include part-privatising services such as libraries, benefits and payroll in contracts worth up to £300m a year.
In September, councillors of the Conservative-Independent led authority voted 46 to 29 to postpone the move, but cabinet members decided to press ahead.
A petition opposing the plans forced a full-council debate, which will take place on 23 October, after it secured more than 5,000 signatures.
Previously, Mr Robertson said he was convinced the project "was the best way forward".
However he said the cabinet would respect the vote of the full council.
In his email, Mr Currie, said: "I welcome your somewhat ambiguous offer to respect full council decisions on the 23rd October but I know you will never let go."
He added: "Alec, this matter has never been personal."
Jeremy Rowe, leader of the Liberal Democrat group, said: "We're in a situation where Cornwall Council is becoming a laughing stock, there's an administration there now which has this bunker mentality, it's completely out of touch."