Cornish family given World War II soldier's possessions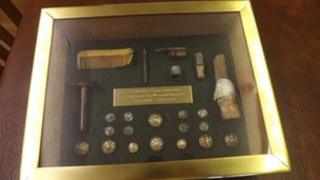 The possessions of a Cornish soldier, which were found in his field grave in the Netherlands, have been presented to his family in Liskeard.
Private Lewis James Curtis was killed while serving with the 5th Battalion, The Wiltshire Regiment, in 1944.
His family have been given items including his toothbrush and razor.
Pte Curtis' remains were identified four years ago and he was buried with full military honours at the Oosterbeek War Cemetery on Friday.
Bob Cole, Pte Curtis' nephew, said: "It's quite a humbling experience to see what's left of him.
"It's part of him that is back home in Cornwall again. He's been away too long."
Mr Cole said the items belonging to the 19-year-old soldier, which were given in a presentation box, also included a crayon used to mark an 'M' on the foreheads of those who had been given morphine, as well as thimbles and a shaving brush.
Another relative, June Cole, said: "It's very precious and it's the closest thing that we've got to him.
"When we walked though the door with it, it felt almost as though we were walking in the door with Lewis which was quite incredible."
The soldier, who was a tailor in civilian life, was killed on 2 October 1944 in an artillery attack in the aftermath of the failed Allied operation - Operation Market Garden - to take and secure a bridge across the River Rhine at Arnhem.
After his death he was buried in a field grave at De Laar Farm, but grave markers were washed away when German engineers blew up a dyke on the River Rhine to flood the area.
His remains were discovered during excavations when the area was being prepared for a housing estate.
The Netherlands Army Recovery and Identification Unit identified and preserved his remains for re-interment.
Pte Curtis' headstone has the epitaph: "Here lies a brave Cornishman whose light still shines in the hearts of his family."