Cornwall privatisation plans could go in 'U-turn'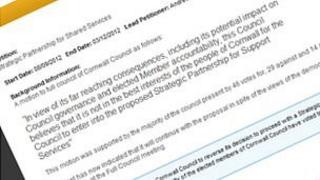 Plans to part-privatise some services such as library provision and benefits entitlement could be dropped by Cornwall Council (CC).
It had been estimated the contracts could be worth up to £300m a year.
Alec Robertson, leader of CC, said he was still convinced the project "was the best way forward".
But Independent councillor Andrew Wallis who collected nearly 6,000 signatures opposing the plans, said he welcomed "this massive U-turn".
The measure is set to be debated by full council on 23 October.
No confidence vote
Mr Robertson said: "If the majority of councillors vote against it at full council, then it won't go ahead - it's not a U-turn.
"This is still very much on the table but we do need to have a properly informed debate and realistically after that informed debate if the majority of the council aren't in support there's no point in going forward with it."
The cabinet of the Conservative-Independent led unitary authority said the privatisation would be part of a "strategic partnership" which would save at least £2.5m a year, but could also affect up to 1,000 jobs.
In September, councillors voted 46 to 29 to postpone the move, but cabinet members decided to press ahead.
Mr Robertson said there were alternative options but these had not been "fully considered" yet and the ultimate decision would still remain with the cabinet.
Mr Wallis said the leader had "finally seen sense and realised the council and the public aren't in favour of shared services".
"We have to look at all options, and they haven't looked at all options, many of the options were discounted at a very early stage and many of us said why didn't we discuss these," he added.
Mr Robertson is also facing a vote of no confidence which will be considered on 16 October.
He said: "This issue [part-privatisation] is more important than me or my job.
"I'm going to do my damnedest to persuade people that this is the way to go, if the vote goes against it, this is a democracy and I will have to go with that."