Helicopters 'disturb birds' at Cornwall's RSPB reserves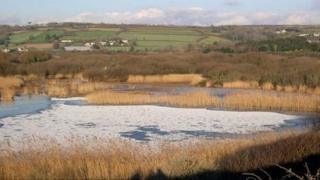 Low-flying helicopters are disturbing wild birds at two RSPB nature reserves in Cornwall, the charity has said.
Visitors to Hayle Estuary and Marazion Marsh are being asked to record details of each incident so the charity can address the issue.
David Flumm, from the RSPB, said some birds had not returned after helicopters had passed over.
The charity hopes the information collected will allow it to approach those causing the disturbance.
Mr Flumm said: "It's been an issue for quite a long time and we've had quite a few complaints from local people and birdwatchers."
During the winter months the birds will be using up valuable energy flying off rather than feeding, he added.
Marazion Marsh is Cornwall's largest freshwater reedbed and is important for warblers and waterfowl.