Cornwall Stadium: Developers submit detailed plans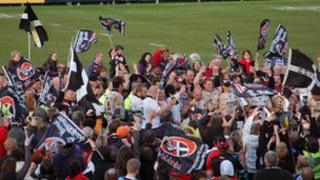 Detailed plans for a multimillion pound sports stadium for Cornwall have been submitted to council planners.
Earlier this year Cornwall Council rejected a request by Cornwall Community Stadium Ltd (CCSL) for £10m towards the £24m project.
However, it is hoped the success of the London 2012 Olympics could help attract private money.
The Stadium 4 Cornwall Group has launched a new website in support of a stadium at Langarth, near Truro.
The group said Cornwall had internationally successful sportsmen and sportswomen and a new stadium would not only provide a world-class venue to showcase their talent, but would also be used to develop and encourage the county's sporting talent of the future.
Olympic 'trump card'
Rod Lyons, the group's general secretary, said it believed a privately-funded project was "still very much a reality".
The euphoria surrounding the summer Olympics, he hoped, would be the "trump card" that could help fulfil the much-heralded "legacy" for Cornwall.
"Prime Minister David Cameron said 'we must not let this go' and London Mayor Boris Johnson spoke about every area of the UK sharing the success," Mr Lyons told BBC News.
"Of course we were initially disheartened with the council's decision not to provide funding, but we will explore every possible avenue to ensure we get our stadium."
CCSL includes Truro and Penwith College, the Inox Group and the Cornish Pirates rugby club.
Although no details of the new plans have been released, the first phase of the scheme would contain a 4,000-seater grandstand stadium, which would be home to the Pirates.
If the Pirates, who are currently in the RFU Championship, win a place in the elite league they will need a new stadium as their home at the Mennaye Field in Penzance does not meet the Premiership's minimum capacity of 10,000.