World War II soldier from Liskeard reburied in Arnhem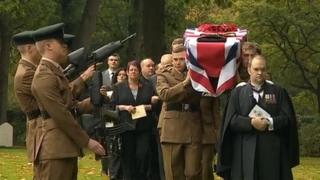 A 19-year-old soldier from Cornwall who died during the World War II battle depicted in the film A Bridge Too Far has been reburied in the Netherlands.
Private Lewis James Curtis, from Liskeard, was killed while serving with the 5th Battalion, The Wiltshire Regiment, during Operation Market Garden in Arnhem in 1944.
His remains were officially identified four years ago from dental records.
Members of his family were at the burial at the Oosterbeek War Cemetery.
'Debt of honour'
Pte Curtis's remains were finally laid to rest 68 years after his death with a Guard of Honour from the 5th Battalion, The Rifles, and with full military honours.
After his death he was buried in a field grave at De Laar Farm, but grave markers were washed away when German engineers blew up a dyke on the River Rhine to flood the area, leaving his resting place unmarked.
His remains were later discovered during excavations when the area was being cleared to make way for a housing estate, it added.
The Netherlands Army Recovery and Identification Unit identified his remains and preserved them for re-interment.
The head of the unit, Warrant Officer Geert Jonker, said: "We are very much aware of the fact that we owe much to our liberators.
"We are very honoured to be able to do this. For us, it is a debt of honour."
Members of his family were at the burial service, where a headstone was revealed with the epitaph: "Here lies a brave Cornishman whose light still shines in the hearts of his family."
One relative, Ken Goodyear, said: "It was very moving and quite overhwleming with all the efforts that have been made by everybody."
The soldier, who was a tailor in civilian life, was killed on 2 October 1944 in an artillery attack in the aftermath of the failed Allied operation - Operation Market Garden - to take and secure a bridge across the River Rhine at Arnhem.
The bridge was one of several key bridges in the Nazi-occupied Netherlands that the Allies hoped to take in a bid to shorten the war.
If the operation - begun in September 1944 - had been successful, it would have enabled the Allies to enter the Ruhr, Germany's industrial heartland, and could have ended the war up to six months earlier.
But the Allies underestimated the number of enemy troops lying in wait for them.
The operation, the brainchild of British Field Marshal Bernard Montgomery, was portrayed in the 1977 Hollywood film A Bridge Too Far.