Isles of Scilly transport has 'significant hurdles'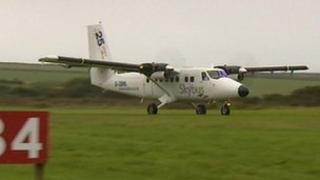 The uncertainty over transport links to the Isles of Scilly has to be resolved soon, according to the council's transport chairman.
Dudley Mumford said the withdrawal of helicopter services, falling passenger numbers and airport running costs were "significant hurdles" to cross.
British International Helicopters (BIH) stops Penzance service on 31 October.
"Our situation is not very tidy... and it cannot go on much longer," Mr Mumford said.
He said the Council of the Isles of Scilly hoped to secure central government funding and European grants which would allow it to improve the airport runway on St Mary's, upgrade the terminal building and improve navigational aids.
Second operator
But, with funding deadlines looming, he admitted it would not be easy.
"We've got significant hurdles to cross - there's no doubt about it," Mr Mumford added.
The week after BIH helicopter flights are withdrawn, the Scillonian passenger ferry is also due to stop for winter until 25 March, raising concerns from residents that the only transport option will be the weather-dependent Skybus fixed wing service, run by the Isles of Scilly Steamship Company.
However, the council has also announced a second operator could be brought in.
Spokeswoman Diana Mompoloki said aviation consultants were holding talks with interested firms on the council's behalf.
"There is interest, but I wouldn't like to count my chickens before my eggs are hatched at this point," she said.
The number of airport passengers has dropped in the past 10 years - from about 140,000 to fewer than 100,000 a year.
But while admitting that was a concern, the council said it was confident the airport had a future.
"There is a great deal of loyalty to the islands," finance director Peter Lawrence-Roberts said.