Southernmost farm tenant sought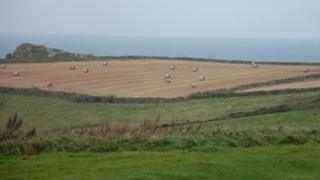 A farmer is being sought by the National Trust to take on the challenges of running main-land Britain's most southerly farm.
Since the time the Domesday Book was written, farming has taken place in the Lizard, a mild - but often wild - land which is the most southerly stretch of the British Isles.
The sea around the Lizard has always been particularly hazardous to shipping. The peninsula was historically known as the "Graveyard of Ships".
The Lizard Lighthouse, built in 1752, overlooks fields which have been owned by the National Trust for more than 20 years.
The fields are part of Tregullas Farm, which provided much of the feeding ground for the first breeding pair of Cornish choughs in the county.
The trust is now seeking a new tenant for Britain's most southerly farm.
It has been working with the Lizard community looking at a local food growing scheme, finding new uses for the old buildings and the wildlife potential for the area.
For the National Trust it is not about who offers the most money for the tenancy, but the best opportunities for the land, wildlife and the thousands of visitors who pass through Tregullas farm on their way to the most southerly point of Britain.
Justin Whitehouse, head ranger for the Lizard, said: "You've got an incredible nature conservation on the farm. It needs farming to make it survive. There's a real opportunity here.
"There's great wildlife and there's great adventures to be had here."
The trust admits the 95 hectares farm is not one for an agricultural novice. The location may be mild with very little frost, but it is open, and the winds can be wild in this part of Cornwall.
Mr Whitehouse said: "You have to have a background in farming, but it's an ideal farm for someone who can think outside the box a bit. Someone who can realise there's much more to be had from farming. We're looking forward to seeing the ideas that come forward.
"We want this farm to be a part of the community, to work with the visitors and the locals, and have a real passion for wildlife."
The trust said the tenancy had already attracted a lot of interest.
There will be an open day on 17 October for potential tenants to visit the farm and speak to various representatives from the RSPB, Natural England and the National Trust.
Once the successful tenant has been chosen, the National Trust expects Tregullas farm to have a long-term tenant working by October 2013.