Cornwall privatisation petition of 5,000 prompts debate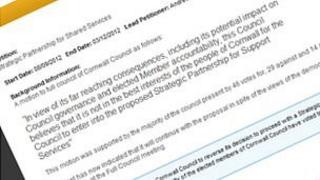 A petition against plans to part-privatise some public services in Cornwall has prompted a full council debate after 5,000 people signed it.
Services including libraries face being run by outside companies to provide work worth £300m a year.
Councillor Andrew Wallis, who started the petition, said he "strongly believed" the proposals were "not in the best interest of Cornwall".
Cornwall Council's policy is that petitions with 5,000 names are debated.
The council has not yet commented about this specific petition.
Independent councillor Mr Wallis said: "This is not about politics, this is about Cornwall, this is about actually providing services that we have some control over and that are actually fit for purpose.
'People were away'
"I can't believe that we've actually got 5,000 signatures in three weeks, it just shows that people are really behind what we're trying to do."
The cabinet of the Conservative-Independent led unitary authority said the privatisation would be part of a "strategic partnership" and save at least £2.5m a year.
But the plans could also affect up to 1,000 council staff.
In September, councillors voted 46 to 29 to postpone the move, but cabinet members decided to press ahead and said the proposals could not now be reversed.
The petition, which will run until 3 December on the council website, has so far been signed by 3,932 online, with more signatures on paper petitions taking the number over the 5,000 mark.
Conservative MP George Eustice said he would welcome a new debate after the first one was held during the summer.
He said: "A lot of people were away, turn-out was incredibly low and lots of councillors abstained because they didn't have the information in front of them to make the decision and I think there is a case to have a proper debate."