Campaign group Republic want Duchy of Cornwall abolished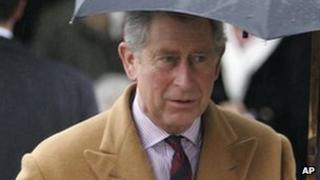 An anti-monarchy group has launched a campaign in Truro calling for the abolition of the Duchy of Cornwall.
The duchy - a private estate spanning 23 counties founded 700 years ago - provides an income for the Prince of Wales worth about £18m a year.
Pressure group Republic said it "should be taken away from Prince Charles and placed under democratic control".
The Duchy of Cornwall declined to comment on Republic's campaign.
Republic chief executive Graham Smith said the campaign would like the "abolition of the monarchy and this [duchy] is a microcosm of that".
"There is no reason why this arrangement should carry on. It is essentially public money that profits from the duchy which is going into Charles' pocket and it's not appropriate that the duchy then give him considerable personal influence with no control or accountability over that influence," he said.
John Kirkhope, a PHD student at Plymouth University studying the influence of the duchy, said the estate had the most "extraordinary range of privileges".
"The duchy doesn't pay tax and the Prince of Wales pays tax on a voluntary basis, so you have a private citizen in charge of a private estate, exercising powers on our constitution which broadly speaking are unaccountable."
Mebyon Kernow Cornwall councillor, Loveday Jenkin, said it was calling for a full public enquiry into the workings of the duchy and how it influences Cornwall's constitutional position, which is "open to scrutiny because it has been a very secretive organisation".
Dartmoor tenant farmer, Maureen Rolls said she was upset such a campaign had been launched.
"The duchy are marvellous landlords, the whole thing is unspeakable quite honestly," she said.
"I dread the thought that someone could instigate this."