Isles of Scilly council chief Philip Hygate denies creating 'climate of fear'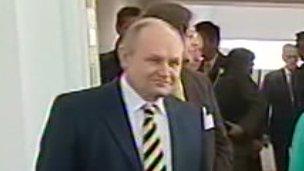 The chief executive of the Council of the Isles of Scilly has denied claims he is responsible for an alleged "climate of fear" on the islands.
BBC Cornwall has been told by residents that they fear losing council contracts or jobs if they disagree with chief executive Philip Hygate.
Mr Hygate said the unitary authority was monitored "very often and very regularly".
He added: "I just don't have the power that some people assert I do have."
The islands are home to 2,200 people, and the islands' council is their biggest employer, providing jobs for 10% of the population.
Islanders have told BBC Cornwall, on the condition of anonymity, that they are frightened of Mr Hygate.
They said they feared losing jobs or government contracts or other work if they spoke out against him with any concerns.
In recent months, concerns raised about Mr Hygate included any involvement he had in suspension of the head teacher of Five Island Schools, Bryce Wilby, over alleged financial irregularities.
It emerged earlier this month that Mr Hygate asked Cornwall Council for advice on suspending the head teacher before school governors were made aware of any problems.
Mr Wilby has denied any wrongdoing, and a Cornwall Council investigation into his case has been reopened.
Mr Hygate said any claims he created any climate of fear were "concerning assertions".
He said: "We don't like the concept of a climate of fear or the fear of fear. We do things properly.
"We are monitored very often and very regularly by audit.
"Less than three years ago we went through a comprehensive performance assessment, and everything was looked at in minute detail.
"We were found to be functioning properly and openly and reasonably.
"Most of the fundamental decisions are very open through council meetings."
He added: "I think some these fears are, frankly, unfounded, particularly in terms of my ability to do these things.
"I just don't have the power that some people assert that I do have."
In July, the chairman of the council, Mike Hicks, promised an investigation into accusations of secrecy and poor governance.
Related Internet Links
The BBC is not responsible for the content of external sites.