Rock lifeboat helmsman climbs cliff to save trapped dog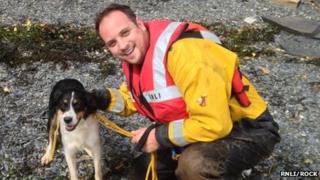 A dog trapped halfway down a cliff in Cornwall has been rescued by a lifeboat volunteer.
The pet's owners raised the alarm just before midday, when it went over the 20m (66ft) cliff between St Saviour's Point and Padstow.
A cliff rescue team was called because the cliff was covered in brambles and gorse with an unstable surface.
But when the dog became distressed, Rock inshore lifeboat's helmsman climbed the cliff to rescue it.
Falmouth Coastguard said it had tasked the lifeboat to help look for the dog from the estuary as it was trapped and could not be seen from the cliff top.
Helmsman James Batters said he had to climb about 15m (49ft) to reach the frightened dog and bring him back to his owners, who were waiting on a nearby beach.
RNLI lifeboat crews are also sometimes called out by the coastguard to assist in the recovery of dogs to ensure owners do not put themselves in danger trying to rescue their pets.
The dog is not believed to have been injured.