Falmouth Harbour dredge trial begins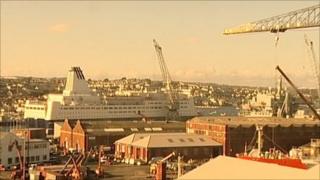 A controversial trial to dredge a channel to encourage more cruise liners to use Falmouth Harbour has begun.
Environmentalists and fishermen have said they are concerned fishing beds and a rare algae, maerl, would be damaged by the dredging.
However, scientists have said the trial would give a "good understanding" of the effects of the full process.
Falmouth Harbour Commissioners say 800 jobs could be created if more cruise ships use the harbour.
However, protesters have said they are worried about what dredging could mean for their livelihoods and local sea life.
Maerl is a calcified seaweed which only exists in a few coastal areas. It acts as a nursery for commercial fish stocks.
The Marine Management Organisation (MMO) halted full-scale dredging, saying it could harm maerl beds.